"The Unmade Bed is a rollicking read and a very frank look at an important set of issues from the male perspective."
— Anne-Marie Slaughter, author of Unfinished Business
A wide-ranging exploration of the complicated, changing relationship between men and women in today's society. One fascinating element sets this book apart: Marche's wife Sarah Fulford, a successful writer herself, has extensively annotated the book, documenting her own thoughts and experiences, unabashedly pointing out flaws in Marche's reasoning and contributing her own opinions. The result is a uniquely balanced and honest approach to the revolution going on in our everyday lives, everywhere that men and women coexist.
The Hunger of the Wolf is a modern masterpiece: The Great Gatsby for the new Gilded Age."
— James Frey
A novel about the way we live now: a sweeping, genre-busting tale of money, morality, and the American Dream-and the men and monsters who profit in its pursuit—set in New York, London, and the Canadian wilderness. It is a story of fathers and sons, about secrets that are kept within families, and about the cost of the tension between the public face and the private soul. Spanning from the mills of Depression-era Pittsburgh to the Swinging London of the 1960s, from desolate Alberta to the factories of present-day China, it is a bold and breathtakingly ambitious work of fiction that uses the story of a single family to capture the way we live now.
Love and
the Mess We're In
"This country's master creator of parallel universes."
— The National Post
When Viv flies to Buenos Aires for a secret liaison with Clive, there is no ambiguity as to their intentions—adultery. But this is where conventionality terminates in Love and the Mess We're In, a work whose lyric richness and inventiveness skillfully embody the tumbles and turns of love in a postmodern age. Marche collaborates with award-winning typographer Andrew Steeves to create richly polyschematic book pages--a series of posters rather than pages--whose influences range from the interwoven texts, geometric shaping and pattern-making of Hebraic calligraphy, illuminated manuscripts and incunabular typography to the ordered tangle of a New York City subway map.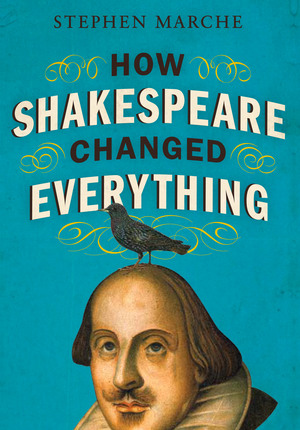 How Shakespeare Changed Everything
"A sprightly, erudite sampling of Shakespeare's influence on absolutely everything." — National Post
W.H. Auden once wrote that "poetry makes nothing happen. It exists in the valley of its saying where executives would never want to tamper." Shakespeare has wandered away from the valley of his saying and hangs around in the most unlikely places, in 1950's teen rebel movies and in psychoanalysts' offices, in nightclubs and in mall food courts, in voting booths in the American South and in the trash of Central Park. The effects of his words on the world have been out of all proportion, monstrous and sublime, vertiginous in their consequences, far beyond anything he could have predicted. How Shakespeare Changed Everything finds Shakespeare's various effects on world history, which would have boggled his own capacious imagination.
Shining at the Bottom of the Sea
"May be the most exciting mash-up of literary genres since David Mitchell's Cloud Atlas."— New York Times Book Review
An anthology from a fictional country called Sanjania, complete with its national symbols, political movements, folk heroes, a group of writers dubbed "fictioneers," a national airline called Sanjair, and a rich literary history. Sanjania is an island nation whose English-speaking citizens draw upon the English, American, Australian, and Canadian literary traditions. This brilliant novel is an anthology, taking the reader from the rough and tumble pamphlets of 1870s Sanjania to the burgeoning Sanjanian nationalistic awareness in the 1930s literary journal, The Real Story, to the extraordinary longing of the writings of the Sanjanian Diaspora.
"So dazzling, so unsentimental… A work that is both beautiful and confusing. In other words, an honest love story."
— New York Times Book Review
This boldly contemporary love story combines sex and seriousness, physical lust and spiritual longing. Raymond and Hannah hook up at a party; a one-night stand expands into a weeklong passionate and surprisingly deep love affair. Then Hannah leaves for a year in Jerusalem. With six thousand miles separating their bodies, the energy of love and lust must be sublimated to the written word. While Hannah immerses herself in Torah and the Orthodox world of Jerusalem, Raymond remains in multicultural Toronto, working on his dissertation on Robert Burton's The Anatomy of Melancholy.
In this remarkable debut, carnal love confronts religion and culture, and modern passion finds its counterpoint in ancient texts.